Features Release Notes
Streaming Data,  Manual Account Addition & New Journal and Backtest Features
We're pleased to announce some extensive, exciting features and enhancements have been added to the Trade Tool Trading Platform.  The updates focus on giving the Users more data choices, control, analytical monitoring and flexibility.
Enhance Your Trading with Real Time Streaming Data
Real Time Streaming Data is now available!  
Made available with our data partner, Quote Media, you can get Real Time Quotes with Streaming updates in a few simple steps.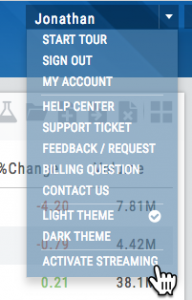 Click on your Username, then select "Activate Streaming".  
We utilized cutting-edge technology to bring the fast quotes.   What's more, you can control this feature from the same Usermenu:  Turn it On/Off at will. 

Click Here for more information and how to get started.
Read More on Streamer

We have added Manual Accounts.  This feature offers great flexibility as both an educational tool and a way to monitor trades from an outside account.   Manual Accounts are identified on the Portfolio tab with a narrow Red Bar.  (Virtual Accounts have a narrow Yellow Bar).
The Manual Account allows you to enter trades (stocks and options) and will provide that day's Bid/Ask price, but you are able to enter the specific price you had the order filled.
This applies to both the Open and Close.  
You can also enter trades from past dates.  The Manual Account Trade Ticket has a date picker so you can load pricing and options from the past into the account.
Tagging, Notes and Analytics features are also included – giving you more additional feedback on your trading success.
Read More on Manual Accounts
Manual Account: Add Trades from Backtesting
Want to keep record of backtested trades?  
Send them to the Manual Account.  While in Backtest Mode, simply structure your trade as usual in the Options Chain or Strategy Template, then click "Save".  (The "Trade" button becomes "Save" when in Backtest Mode).   If the trade is still open or if you just want to create the opening trade, click 'Save' after structuring the trade and select "Save Entry Only".   You are able to adjust the Fill Price for each leg of the trade, whether opening or closing.  
Journal features such as Tagging, Notes and Analytics are included, further enriching the strategy practices in your toolbox.

Read More on Backtesting and Manual Accounts
Replay: View Journal Trades in Backtest
Take a trade from your Journal and "replay" it in Backtest Analysis with the click of a new icon.
View the P/L, Price History, Stock/Volatility chart and more.  
In addition to Journal Notes and Analytics, this feature allows for visual feedback on past trades.
Read More on Replay Journal Trades in Backtest
Journal Delete Function
Maybe a stock symbol changed, you closed a trade in error, or want to remove Cancelled or Expired Orders from your Journal.  
Now it's possible.  
Clicking on the [x] icon on the Journal Tab allows you to delete the Selected Trade or the Selected and Related Trades.
Read More on Deleting Journal Entries
Enhanced Tile View Charts
Tile view charts on Watch Lists and scan results have been enhanced for increased clarity on the 1, 3 & 6 month views.  Volume has been added and Candlesticks have replaced OHLC (Open,High,Low and Close) or western on the 3 month charts for easier initial analysis.
"Extend By" Period on Charts – Save Feature
You can now save Chart profiles with "Extend By 10, 30, 60 & 90 Day" time periods.  Simply add the time frame you want, click on the Save icon on the upper right of the screen.
Other Added Features
Journal Account Multi-Selector-

Allows you to select one or more of Real, Virtual, Manual or Notes to select your Journal view.  The 'Toggle All' button selects/removes all.  

Color-Coded EPS –

The EPS column, under Find>Calendar>Earnings is now color coded, Dark Green, Light Green, Light Red and Dark Red.  The colors are tied to beating or missing estimates.

Unreconciled Trades in Journal

– If there are unreconciled expired trades in your Journal, this tab will be the default display on the Journal.  Reconciling these trades will update the Analytics screen and Journal Tab.  

Click here

for more information on how to update trades in your Journal.

Deleting Account or Resetting Virtual Account – An extra step was added to confirm the User wants to Delete or Reset an account.  This 'speed bump' helps ensure the user did not click "-" to delete or "Reset Virtual Account" in error.
The user is prompted to type either "Reset" or "Delete" in the additional screen before proceeding.
Note:  Deleting or Resetting the account will also remove all related Journal entries.  Once Reset or Deleted, the affected account cannot

be restored.

Chart Tooltip Offset – The Tooltip display the shows prices on the chart has been offset to the left of the cursor – so as not to interfere with charting analysis.
This feature can be turned off by clicking on the Gear icon (shown) and unchecking the box "Show Tooltip on Charts"
Change Log:
Added dialog to Account Reset/Delete – safeguard step to confirm action.

Identify Tagging issue – removed invalid characters from #tags.

Quantity multiplier issue corrected in transfer from Strategy to Chain.

Entering number recognized by Enter Key or clicking away from field.

P/L Display corrected on Call/Put Chain.

Stock Volatility Chart color issue in dark theme resolved

Enter action corrected on Options Tab.