Features Release Notes:
E*trade Brokerage added, Portfolio Greek View, Enhanced Journal Marking
We're pleased to announce the latest Release of the Trade Tool Trading Platform.
The addition of E*Trade Brokerage allows more choices for users to trade directly from the platform, while linking up to 2 months' of trading history.  The extensive Journal features allow users to monitor and analyze trading profitability.
The Positions Tab now offers Greek View for an additional resource of active trade analysis.
The Journal Tab makes it easier to identify/select the type of accounts to review/analyze by colorizing the summary list to match the account tabs.
---
E*trade added to platform

Adding E*Trade to the Platform is easy as 1 – or – 1,2,3!
1. As a New Account, simply click the "Open New Account" Button (as shown) and follow the steps to open your new trading account.
To link an Existing Account:
1. Click on the drop-down box, select E*Trade
2. Read and Agree to Terms and Conditions (check box)
3. Click "Continue"
---
Greek View in Positions Tab
Analyzing Trades from the Positions Tab is now easier with the new Greek View.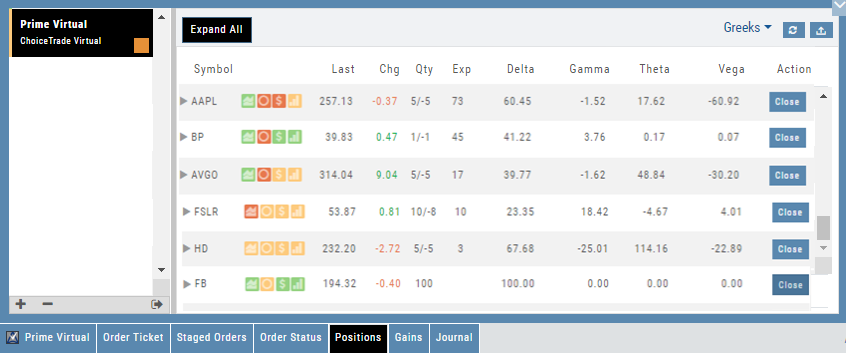 ---
Enhanced Journal Account Identification
The account tabs already have vertical color bar to help identify the type of account:
Green = Live
Yellow = Virtual
Red = Manual
Now the summary tab, above the account list, has clearer markings for the type of account(s) you wish to review.
Change Log:
Bid/Ask added to Quote Bar (Research Tab)
Corrected Closing error on Mobile App
Resolved buffering in Scans>Options>Chain
Added HR line to HeatMap filter display
Chart sizing with Compare/Seasonal resolved
Navigating Chart Compare function corrected for Intraday to Daily charts
Journal note container display corrected
Option Strike Display – Near, More or All settings are now session sticky
Positions $ Change decimal places show .00
Exporting Positions includes Price
z-score included in container