Customize your charts with Trend Lines, Notes and Advanced Annotations.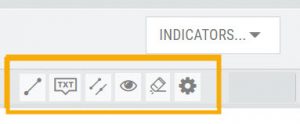 These tool icons are available above the chart, just below the Indicators drop-down box.
The Gear Icon sets/manages the default for these tools, as well as whether to save Trendlines, Notes & Annotations on the chart (recommended).
Each Trendline, Note Entry and Annotation can be individually customized by color and, where applicable, transparency.
Clicking on any Trend Line, Note, or Advanced Annotation, will display the "Annotation Settings" box for that entry.  
The Annotation Settings box can be repositioned elsewhere on the platform, if needed.
Line Color, Line Width and if applicable, Background Color and Transparency can be changed.
Be sure to click 'Save'!
Note:  When changing a color, the browser you use will display the 'color picker' differently.   This is normal and does not affect the functionality